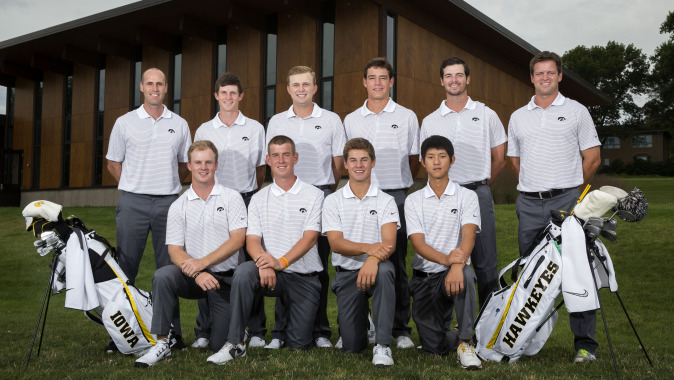 May 12, 2015
Editor's Note: The following first appeared in the University of Iowa's Hawk Talk Daily, an e-newsletter that offers a daily look at the Iowa Hawkeyes, delivered free each morning to thousands of fans of the Hawkeyes worldwide. To receive daily news from the Iowa Hawkeyes, sign up HERE.
BY SAM STYCH
IOWA CITY, Iowa — For the University of Iowa men's golf team, making the postseason isn't a goal, it's an expectation. On May 14, the Hawkeyes begin competition at the NCAA Yale Regional in New Haven, Connecticut, marking the seventh-consecutive year the team has advanced to the postseason.
Though it is only Tyler Stith's first year as head coach at Iowa, as a four-year letterman and former Iowa assistant coach, he knows the expectations for this program.
"Getting to the NCAAs every year has become the expectation for this program," said Stith. "We expect to be here and the NCAA Championships the following week. Our guys go out and perform week-in-and-week-out and show that we belong and that we can compete at the highest level. Having made the postseason seven years running says a lot about how far our program has come."
Iowa and Illinois are the only Big Ten schools to appear in NCAA Regional competition in each of the last seven years.
"I'm confident going into this weekend," said Stith. "I've felt confident about this team all year and feel like their confidence is continuing to grow with each and every competition. They grow more confident each week and continue to get better each week. That's why I'm so optimistic about the week ahead."
Being confident will be the key to Iowa's success. The Hawkeyes are playing at one of the most prestigious collegiate golf courses in the country in The Course at Yale, but the 14-team field is filled with contenders.
Seeded seventh, the Hawkeyes fall behind No. 5 Vanderbilt, No. 7 LSU, No. 16 South Florida, No. 20 Oklahoma State, No. 29 Arkansas, and No. 33 San Diego State. No. 45 NC State, No. 53 Ohio State, No. 57 Troy, No. 69 North Texas, No. 88 College of Charleston, No. 206 Robert Morris, and No. 242 Saint Peter's are seeded behind Iowa.
Iowa will be seeking its fourth NCAA Finals berth in the past seven years and the 16th appearance in program history. The top five teams, along with the top individual not on a qualifying team from each region, will advance to the NCAA Finals at The Concession Golf Club in Bradenton, Florida, from May 29-June 3.
"We're enjoying it all right now and all the guys are playing well," said Stith. "We don't want this season to end because we want to go to Florida for the chance to play for a national championship."