Hawkeye Fan Shop — A Black & Gold Store | Hawk Talk Monthly — June | Fight For Iowa
Editor's Note: The following first appeared in the University of Iowa's Hawk Talk Daily, an e-newsletter that offers a daily look at the Iowa Hawkeyes, delivered free each morning to thousands of fans of the Hawkeyes worldwide. To receive daily news from the Iowa Hawkeyes, sign up HERE.
By JAMES ALLAN
hawkeyesports.com
IOWA CITY, Iowa — News of Chris Hatcher's induction into the National Iowa Varsity Club Hall of Fame has helped fill the void of what could have been.
 
The former University of Iowa All-American spent 13 seasons in professional baseball where he was a .281 hitter with 238 home runs.  All but eight of Hatcher's 1,281 career games were in the minor leagues.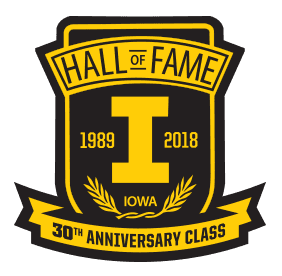 When Hatcher received news this spring that he was going to be a hall of famer, it eased some of that baseball-inflicted what-if. 
 
"Tears came to my eyes," said Hatcher, who played for the Hawkeyes from 1988-90. "What hit me so much is after playing 13 years, you go on with your life and you think about what could have been in the Major Leagues.
 
"When I got off the phone, a pride came over me. I have always had a hole in my heart for what could have been in my career, but looking back at my Iowa days, I did things right and we accomplished so much."
 
Hatcher will be one of seven inductees into Iowa's 30th Hall of Fame class Aug. 31 at the Coralville Marriott Hotel and Convention Center.  Tickets to the event, which is open to the public, can be purchased at hawkeyesports.com/HOFtickets.
 
Growing up in Council Bluffs, Iowa, Hatcher played football, baseball, basketball, and ran track.
 
"My mom told me if wasn't in a sport, I had to get a job," said Hatcher. "So I played whatever sport was up next."
 
At 6-foot-3, 220 pounds, Hatcher had the build of a football player. He had two collegiate opportunities: a walk-on spot in football at the University of Nebraska-Lincoln and a baseball scholarship at Iowa.
 
"When it came down to it, I was a small football player, but I was a big baseball player," said Hatcher. "Another thing I had going for me was I could hit the ball a long way when I hit it. That was a God-given thing for me."
 
Hatcher set an Iowa freshman home run record in 1988, belting 12 home runs and driving in 46 runs on a 29-win team. He hit .529 with four home runs, 13 RBIs, and seven runs in his first five collegiate games.
 
"I started off hot," said Hatcher. "Then I got to Big Ten play and realized I couldn't hit a curve ball too well.  I was a raw player. Even though I had ability, I hadn't played much baseball, so I was behind everybody as far as baseball knowledge and games played."
 
From year one to year two, Hatcher put in extra work. He spent a lot of time with Iowa hitting coach Tom Petroff, a man he describes as a hitting genius.
 
"What Tom taught me I was able to use through my entire professional career and when I teach kids, coach, or do individual instruction, I still use a lot of the things he taught me," said Hatcher. "He taught us in a way where you became your own coach.
 
"You could feel your swing and know what you did wrong. You didn't need people to come back and correct you."
 
Hatcher batted .405 as a sophomore, hitting 14 home runs and driving in 67 to earn third-team All-America, first-team All-Big Ten, and ABCA Region IV honors.  Iowa won 37 games and finished as the Big Ten runner-up.
 
In 1990, Hatcher and the Hawkeyes took it a step further. Behind a potent offense that averaged 6.6 runs per game, Iowa won 38 games, claimed the Big Ten regular-season crown with a 22-6 record, and played in the NCAA Tournament for the first time in 15 years. 
 
"One thing we could do was hit," said Hatcher. "We had Tim Costo, Keith "Primetime" Noreen, Brian Wujcik, Tom Anderson, and Chris Malinoski. We could score nine runs a game in the blink of an eye. We knew we weren't out of any game.
 
"That was a neat group of guys. There were no egos; we concentrated on winning games, which is rare these days. We played for the name on the front of the jersey, not the name on the back."
 
Following the season, Hatcher was getting ready to travel to Alaska for summer ball when his plans took a sudden detour. He was selected in the third round of the Major League Baseball Draft by the Houston Astros.  Two Hawkeyes were drafted in the top three rounds with Costo being selected with the eighth overall pick.
 
"I didn't even know I got drafted until they called me," said Hatcher. "It's not like today where it's on television. It was a surprise for me in a way. I thought I would probably get drafted, but the third round is pretty high."
 
Hatcher played for six Major League organizations — Houston, Kansas City, Colorado, Chicago, and the Los Angeles Angels of Anaheim. In 1998, Hatcher hit 46 home runs and had 106 RBIs en route to Pacific Coast League Most Valuable Player honors. He made his MLB debut on Sept. 6, 1998, as a member of the Kansas City Royals.  
 
"Iowa propelled me in my professional career," said Hatcher. "At Iowa, you have your core values of hard work and being a team player. That is what allowed me to stay in the professional ranks for 13 years.
 
"We worked hard and one thing I remember the coaches always said to us was to work on your weaknesses.  I remember always doing that and that helped me my entire career."
 
Hatcher has returned to Council Bluffs where he has been a fire-fighter paramedic for the past 12 years. He  is looking forward to hall of fame weekend to share the experience with his wife, Lisa, and their three kids, Hayden, Shelby, and Wyatt. 
 
"I am so excited to have my family come to Iowa City and be part of the celebration," said Hatcher. "My kids have heard stories, but this will be a memory we'll have forever."